Founded in 2007, the name "Society of Mary Immaculate" (SOMI) was chosen due to our patron saint, St. Maximilian Kolbe's, devotion to Our Lady. The Miraculous Medal was a sign of his devotion to her.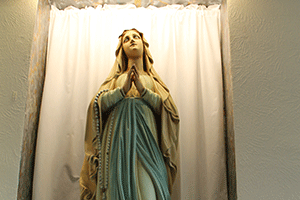 We seek to
Grow in Service to each other, our parish, and our community.
Grow with each other in Spirituality.
Grow in friendship as sisters with one another.
SOMI was established through the merging of the altar and rosary societies at the three parishes that had predated the founding of St. Maximillian Kolbe parish.
Service Projects have included: Bake sales that promote and raise funds for parish causes, including items for the Children's Faith Formation program. We also assist the Parish by facilitating gatherings such as the Donut Sundays, Holy Thursday refreshments after The Mass of The Lord's Supper and other events. In the past, we've had a committee that assisted bereaved families by preparing and serving funeral dinners. Our Treasury has also donated funds to mission causes such as the Salvatorian Mission in New Holstein. SOMI is affiliated with the Diocesan Council of Catholic Women (DCCW) and participates in the annual Let's Lick Family Violence effort to raise funds to support domestic violence shelters.
Spirituality: Given our roots as a rosary society, we pray the rosary at every meeting. We frequently pray for the special intentions of those gathered for the meeting. We have annual autumn mini-retreats and sponsored a visit by Spiritus Ministries to inspire our youth. We remember deceased members through Mass intentions. We participate in DCCW events such as Marian Day, Conventions, Assemblies and Days of Enlightenment.
All adult women of the parish are most welcome to join SOMI. Annual dues are currently $5/year. Ladies of St. Max, we need your fresh ideas and fresh energy to help the Parish live out its mission to spread the good news of Christ, foster prayer and worship, and to educate our children in the faith.
SOMI meets in the parish hall (basement) at 6:30 p.m. the first Tuesday of every month March through December. After a few years of canceling our January and February meetings due to dangerous driving conditions on icy roads, we've opted to host our meetings before the Saturday afternoon Mass in those two months. Contact Barb Kimme at crc@bayland.net or the parish office for more information.
Mission
We, the Parish of St. Maximilian Kolbe, will enthusiastically promote the reign of God in our Community and the world by:
Preaching the Good News of Salvation
Building an earthly kingdom of Love, Justice, Mercy and Peace
Fostering prayer and worship
Educating our children
Providing involvement for the laity