Rev. Fr. Francis Nusi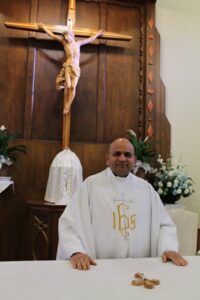 Our Mission
We, the Parish of St. Maximilian Kolbe, will enthusiastically promote the reign of God in our Community and the world by:
Preaching the Good News of Salvation
Building an Earthly Kingdom of Love, Justice, Mercy and Peace
Fostering Prayer and Worship
Educating our Children
Providing Involvement for the Laity
–ANNOUNCEMENTS–
FACEBOOK: St. Maximilian Kolbe Parish
FATHER NUSI #: 715-927-3224 (Father Nusi is also Pastoral Administrator of Holy Trinity Parish in Oconto, WI — click on box above
If you need to speak to someone, for any reason, Deacon Jerry is more than willing to listen and help: 920-362-6274
PARISH OFFICE #: 920-822-5255; Office Hours.: Monday-Thursday, 8:30AM-1:00PM (Secretary, Debbie)
Now is a good time to call the Parish Office to request a mass for 2023 (masses filled up fast in 2022).
The Parish of St. Maximilian Kolbe has an opening for a part-time Secretary-Bookkeeper, Monday-Thursday. Contact the Parish Office, or Father Nusi.
GIVE ONLINE (Secure Website)
Giving is a form of worship when done in God's name. You can now support St.Max by donating electronically. Find registration form above in Give Online Box, or Menu Line.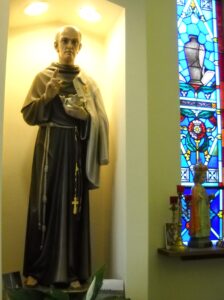 Recognized as patron saint of drug addicts, prisoners, families, and the pro-life movement. He was a Catholic priest and a Conventual Franciscan Friar. His Feast Day is August 14.
---
ALL ARE WELCOME
Saturday Mass at 5:45PM
Sunday Mass at 9:00AM
Tuesday & Thursday Masses at 8:00AM
No mass is scheduled for Tuesday, October 4. Father Nusi is attending a Clergy Congress October 3-5.
All Saints Day Masses:
November 1 — 8:00AM St. Maximilian Kolbe; 6:00PM Holy Trinity
November 2 — 8:00AM St. Maximilian Kolbe; 11:00AM at Oconto Cemetery; 6:00PM Candle Mass, Holy Trinity
---
FAITH FORMATION/YOUTH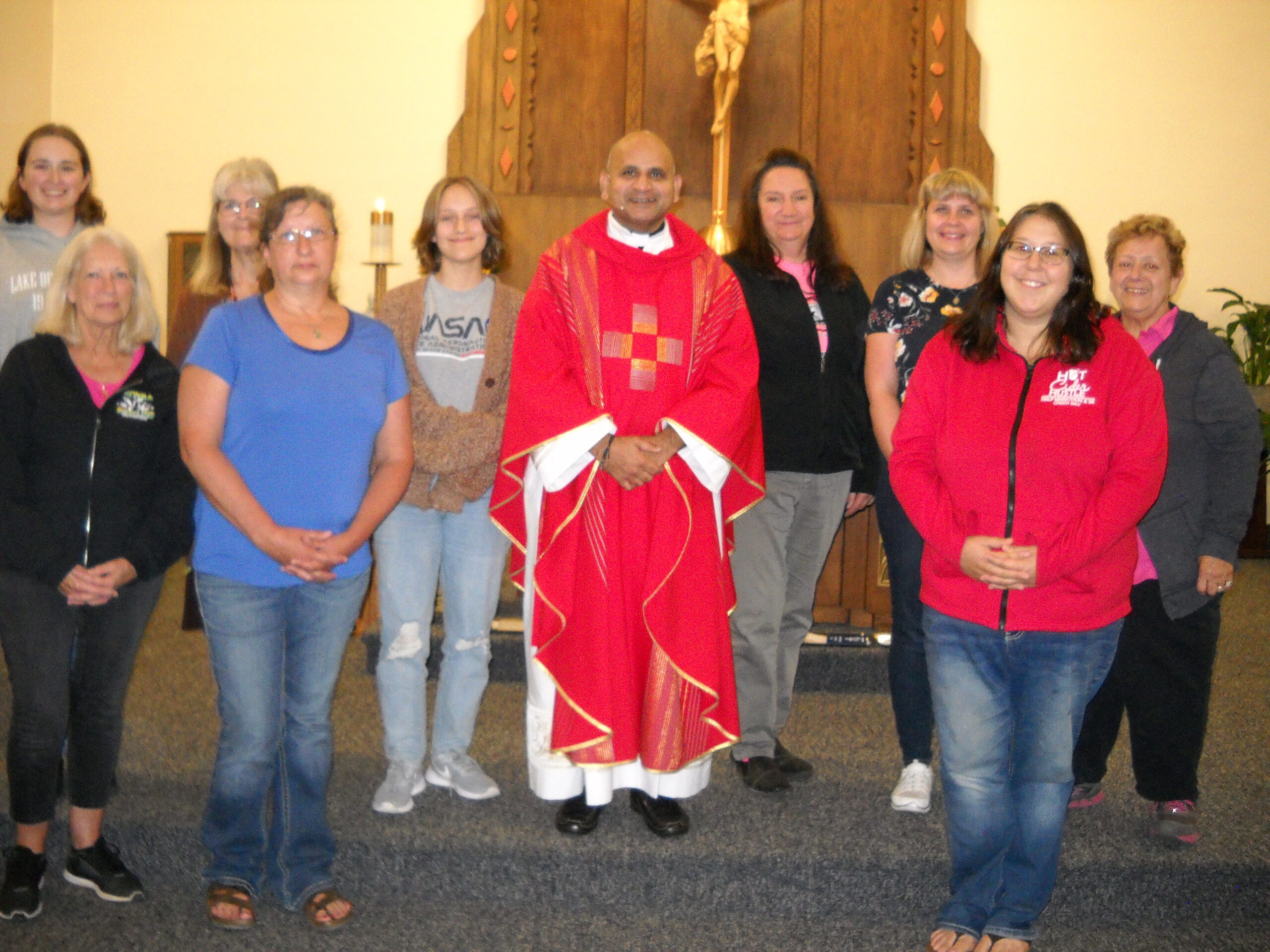 A sincere thank you to this year's catechists for saying yes to teaching our children, and sharing their time and talents.
From Karen Lefevre, our Faith Formation Coordinator: "This is going to be a wonderful, faith-filled year."
Karen can be reached at 920-373-2123, or leave your message at stmaxsobieski.rel.ed@gmail.com.
---
Classes are on Wednesdays:
5:30-6:45PM — 1st to 6th grade
7:00-8:15PM — 7th to 11th grade
First Reconciliation Parent Meeting is Wednesday, September 28th, 6:00PM.
LIturgy of the Word for Children is Sunday, October 2nd at 9:00AM Mass (children must be able to use the restroom on their own to participate).
---
OUR WORLD TODAY
************
Here in NE Wisconsin Autumn has arrived, leaves are falling, and we are embracing the harvest. Give thanks to the Lord for our harvest, and for the best of nature on display.
************
Bishop Ricken's column titled In Gratitute for our Priests — "Join me in praying for our priests. We need them and they need our prayers and support. May God bless each of our priests, and stir in the hearts of those he is preparing for priesthood." The Compass, 9/23 Edition)
************
Pope Francis on Twitter @ Pontifex
9/19 — "The lamp of faith will always be lit on Earth as long as there is the oil of prayer."
9/18 — "Let us continue to pray for the suffering people of Ukraine, and for peace in every land bloodied by war."
9/17 — "The Lord wants us to make our lives masterpieces through the everyday things we do."
************
MEETINGS/EVENTS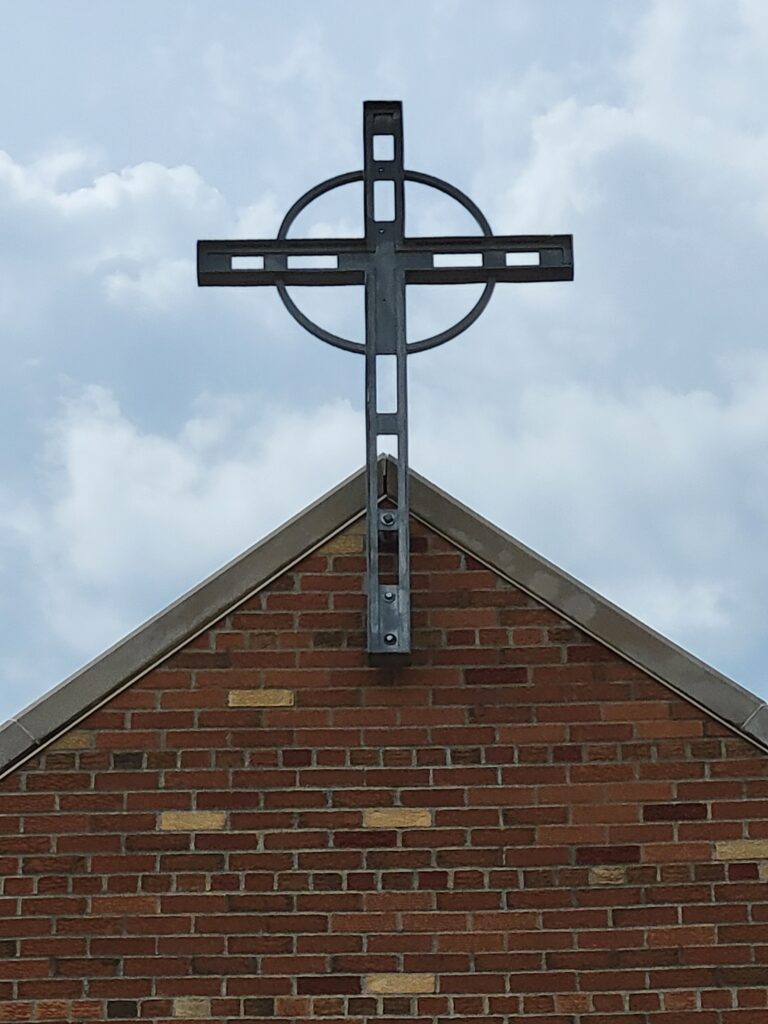 MEETINGS/EVENTS
Structure Meeting — October 11, all day, Resch Center, Green Bay
Finance Council — October 13, 6:30PM
Annual Meeting — Sunday, October 16, after 9:00AM Mass
Pastoral Council — Joint meeting with Holy Trinity in Oconto — November 17, 6:30PM
BINGO
BINGO Saturdays 2022 & 2023
Doors open at 11:00AM
BINGO starts at 12:30PM
October 8 & 22
November 5 & 19
January 14 & 28
February 11 & 25
March 11 & 25
Smallest payout is $15/game. Payout depends on number of players, and what game is being played. Some games are regular BINGO, others you need a special design to win.
— $10.00 to play 20 games (great price)
— In church basement with elevator
— Selling food and beverages
— Popcorn is free
— 50/50 raffle
— SCRIP Cards for sale
JOIN US — BE A WINNER!
SHOP WITH SCRIP
SCRIP Cards are sold after weekend masses, or available at the Parish Office Monday-Thursday, between 8:30AM – 1:00PM. Cards for Woodman's, QuikTrip, Festival Foods, and Shell are very popular. SCRIP Profit for August was $126.85.
ONE by ONE CAMPAIGN
(A Catholic Campaign to Transform Communities)
One by One Campaign itself has ended, but gifts will continue to be accepted. Currently gifts pledged reached 83% of our goal. St. Max will receive 50% of all funds received, which will be used to replace the Church floor, install handicap ramp at Parish Office, and invest in Faith Formation. Currently funds are available for use, and investing in Faith Formation will take priority. More information can be found in Menu LIne above. Contact Parish Office for Pledge Cards.
ANNUAL BISHOP'S APPEAL
Currently $20,335.00 has been raised toward our Parish goal of $23,000. Appeal runs thru October 31, 2022. To contribute, contact the Parish Office, visit the website at www.catholicfoundation.org/give, or call Tammy toll-free at 877-500-3580, ext. 8123.
I