Welcome to St. Maximilian Kolbe Parish
Covid 19 Precautions:
Face mask are optional and available if you want one.
The left side of the church allows for Social Distancing.
Hand sanitizer is available and should be used prior to entering the church.
For online giving, please go to www.givecentral.org.
LET'S INVOKE THE INTERCESSION OF OUR LADY OF GOOD HELP, ST. JOSEPH, ST. MAX KOLBE, ST. ROCHE & THE SAINTS IN HEAVEN. LET'S PRAY THE ROSARY DAILY.
---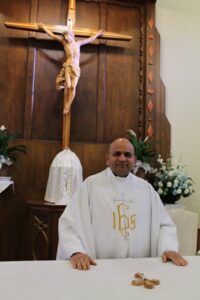 Fr. Francis Nusi
Our Mission
We, the Parish of St. Maximilian Kolbe, will enthusiastically promote the reign of God in our Community and the world by:
Preaching the Good News of Salvation
Building an earthly kingdom of Love, Justice, Mercy and Peace
Fostering prayer and worship
Educating our children
Providing involvement for the laity