Rev. Fr. Francis Nusi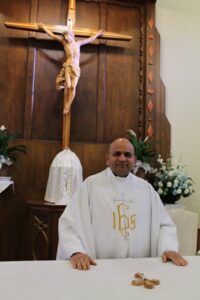 Our Mission
We, the Parish of St. Maximilian Kolbe, will enthusiastically promote the reign of God in our Community and the world by:
Preaching the Good News of Salvation
Building an Earthly Kingdom of Love, Justice, Mercy and Peace
Fostering Prayer and Worship
Educating our Children
Providing Involvement for the Laity
–ANNOUNCEMENTS–
FACEBOOK: St. Maximilian Kolbe Parish
FATHER NUSI #: 715-927-3224 (Father Nusi is also Pastoral Administrator of Holy Trinity Parish in Oconto, WI — click on box above)
If you need to speak to someone, for any reason, Deacon Jerry is more than willing to listen and help: 920-362-6274
PARISH OFFICE #: 920-822-5255 (Secretary, Debbie)
GIVE ONLINE
Giving is a form of worship when done in God's name. You can now support St.Max by donating electronically. Find registration form above in Give Online Box, or Menu Line.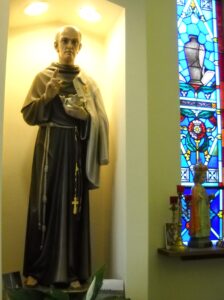 Recognized as patron saint of drug addicts, prisoners, families, and the pro-life movement. He was a Catholic priest and a Conventual Franciscan Friar. His Feast Day is August 14.
ALL ARE WELCOME
Saturday Mass at 5:45 PM
Sunday Mass at 9:00 AM
Tuesday & Thursday Masses at 8:00 AM
.
St. Maximilian Kolbe Youth Faith Formation Registration, 2022-2023 year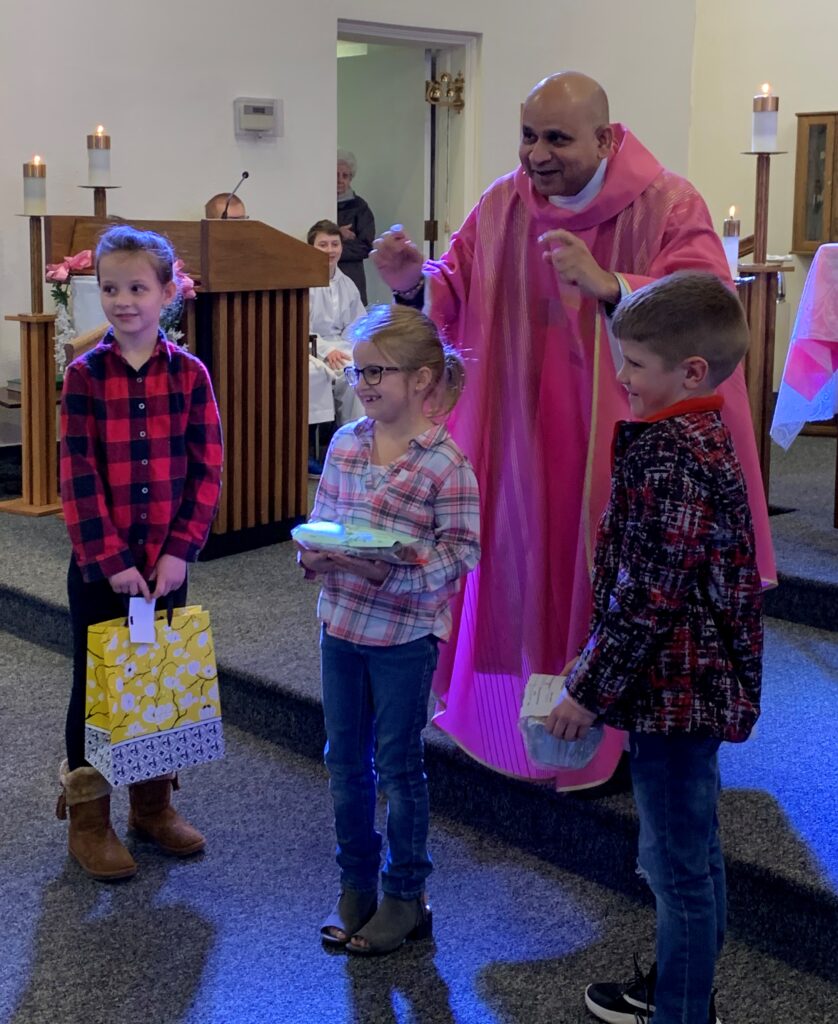 All children of the Parish 1st grade thru 11th are welcome to attend. Returning families were sent registration information by e-mail.
Registration form can be found in Faith Formation Box above. Contact Katie Murphy, Faith Formation Coordinator at 240-422-4059 or stmaxsobieski.rel.ed@gmail.com.
Please fill out the Registration Form ASAP, as we are planning our classes for Fall, 2022. Our year will begin on September 14, 2022. Grades 1-6 meet on Wednesdays, 5:30-6:45 PM, and grades 7-11 on Wednesdays from 7:00-8:15 PM.
************
Catechists needed. No prior experience, just a desire to help pass on faith to younger generations. Contact Katie Murphy (240-422-4059).
OUR WORLD TODAY
Pope Francis on Twitter @ Pontifex, August 7 — Ukraine — "The departure of the first ships loaded with grain from the ports of Ukraine is a sign of hope. I sincerely hope that, following in this direction, there might be an end to combat and that a just and lasting peace might be reached."
Pope Francis on Twitter @ Pontifex, August 5 — "To give hope to others, sometimes it is simply enough to be kind, to put aside your own worries and priorities in order to show interest, give the gift of a smile, speak an encouraging word, create a space for listening amid so much indifference."
MEETINGS/EVENTS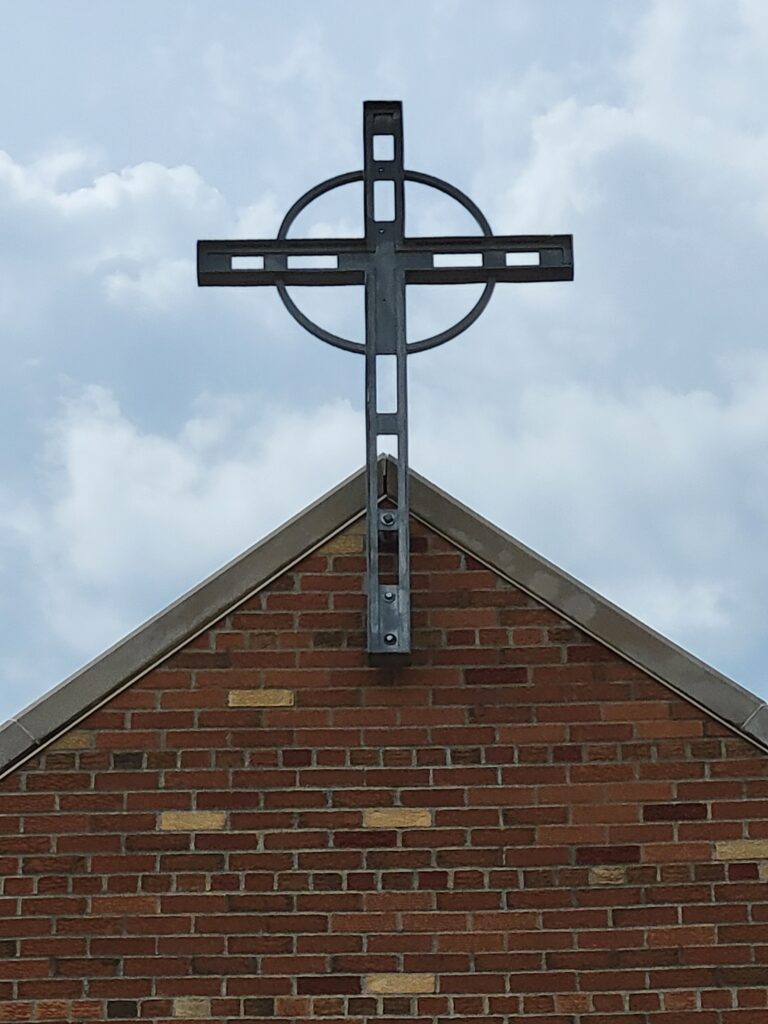 MEETINGS/EVENTS
BINGO Meeting — August 17, 6:00 PM
Finance Council — August 23, 6:30 PM
Pastoral Council — August 25, 6:30 PM
RCIA (becoming Catholic as an adult) Informational Meeting — September 22, 6:00 PM
************
Becoming Catholic as an Adult
RCIA or Rite of Christian Initiation will have Informational Meetings September 15, 6:00 PM at Holy Trinity Parish, and September 22, 6:00 PM at St. Maximilian Kolbe Parish. If you have a thirst for knowledge of Scripture and an interest in learning the Catholic faith, you are encouraged to attend. We look forward to seeing you. For questions, contact Fr. Nusi (715-927-3224), or Dave or Cindy Westenberg (RCIA) at 920-850-9488.
************
BINGO will resume at St. Max every other Saturday afternoon beginning in September. All are invited to help out with this fun and great fundraiser. Next meeting is August 17, 6:00 PM.
SHOP WITH SCRIP
SCRIP CARDS are sold after weekend masses, or contact Parish Office (920-822-5255). Fiscal YTD raised $1,439.46. Cards for Woodman's and QuikTrip are very popular. Other available SCRIP CARDS and further information can be found under About Us in Menu Line above.
ONE by ONE CAMPAIGN
(A Catholic Campaign to Transform Communities)
One by One Campaign itself has ended, but gifts will continue to be accepted. Currently gifts pledged a total of $95,275, 83% of our goal of $115,000. Our Parish will receive 50% of all funds received, which will be used to replace the Church floor, install handicap ramp at Parish Office, and invest in Faith Formation. Visit MENU LINE above for detailed information. . Contact the Parish Office for Pledge Cards.
ANNUAL BISHOP'S APPEAL
Currently $20,335.00 has been raised toward our Parish goal of $23,000. Appeal runs thru October 31, 2022. Please consider making a gift. Contact the Parish Office, visit the website at www.catholicfoundation.org/give, or call Tammy toll-free at 877-500-3580, ext. 8123.
I