Our Mission
We, the Parish of St. Maximilian Kolbe, will enthusiastically promote the reign of God in our Community and the world by:
Preaching the Good News of Salvation
Building an earthly kingdom of Love, Justice, Mercy and Peace
Fostering prayer and worship
Educating our children
Providing involvement for the laity
Our History
St. Maximilian Kolbe Parish is the result of a merger of three area parishes. St. Louis (Abrams) and St. John Cantius (Sobieski) were established by farm families with deep roots in their Polish and Roman Catholic heritage. St. Joseph's (Chase), was a Mission parish of St. John Cantius.
From approximately 1988 – 2017, Father Gerald Prusakowski OFM was pastor of all three parishes. He is a member of the Franciscan Friars, Assumption of the Blessed Virgin Mary Province. At that time, the Province headquarters was in Pulaski.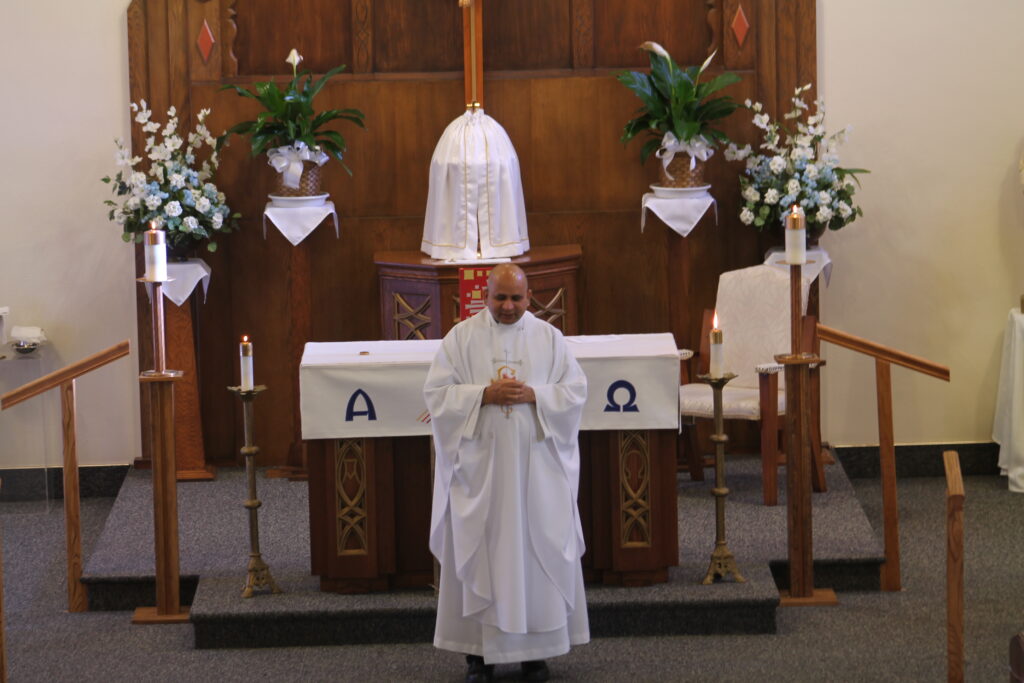 In 2006, with changing population in the area and struggles to maintain each parish, the three parishes decided the time was right to merge. As a very meaningful Lenten sacrifice, all three parishes were closed during Lent, 2007. A new parish, St. Maximillian Kolbe Parish, was created during the Easter Vigil. Three streams of holy water cascaded and blended into a font as special prayers were lifted to our Lord to unite the three parishes into one new parish.
From 2011-2017, we were linked with St. Benedict Parish in Suamico and St. Pius Parish in Little Suamico. The Franciscan Friars and Bishop Ricken assigned Father Everard Scesney as Parochial Vicar to assist our pastor, Father Gerald.
On July 1, 2017 the link with St. Benedict and St. Pius was dissolved. Fathers Gerald and Everard also retired from parish ministry. The Diocese assigned Fr. Antonio de los Santos as our pastor. Father Tony came to us from the Philippines.
Father Tony was re-assigned in August, 2020. The Diocese decided to link our parish with Holy Trinity Parish in Oconto. The Diocese assigned another international priest, Fr. Francis Nusi, as our pastor. Father Nusi ably serves both parishes and is from India.
St. Maximilian Kolbe Parish has been blessed with the leadership of good and holy priests who, inspired by St. Maximilian Kolbe, sacrifice to provide for our spiritual needs.
---
St. Maximilian Kolbe
Maximilian Maria Kolbe, O.F.M. Conv. was a Polish Conventual Franciscan friar, who volunteered to die in place of a stranger in the German death camp of Auschwitz, located in German-occupied Poland during World War II.
Raymund Kolbe was born on January 8, 1894 in Zduńska Wola, in the Kingdom of Poland, which was a part of the Russian Empire, the second son of weaver Julius Kolbe and midwife Maria Dąbrowska. His father was an ethnic German and his mother was Polish. He had four brothers. Shortly after his birth, his family moved to Pabianice.
In 1907, Kolbe and his elder brother Francis joined the Conventual Franciscans. They enrolled at the Conventual Franciscan minor seminary in Lwow later that year. In 1910, Kolbe was allowed to enter the novitiate, where he was given the religious name Maximilian. In 1918, Kolbe was ordained a priest.
After the outbreak of World War II, which started with the invasion of Poland by Germany, Kolbe was one of the few brothers who remained in the monastery, where he organized a temporary hospital. After the town was captured by the Germans, he was briefly arrested by them on September 19, 1939 but released on December 8th. He refused to sign the Deutsche Volksliste, which would have given him rights similar to those of German citizens in exchange for recognizing his German ancestry. Upon his release he continued work at his monastery, where he and other monks provided shelter to refugees from Greater Poland, including 2,000 Jews whom he hid from German persecution in their friary in Niepokalanów. Kolbe also received permission to continue publishing religious works, though significantly reduced in scope. The monastery thus continued to act as a publishing house, issuing a number of anti-Nazi German publications. On February 17, 1941, the monastery was shut down by the German authorities. That day Kolbe and four others were arrested by the German Gestapo and imprisoned in the Pawiak prison. On May 28th, he was transferred to Auschwitz as prisoner #16670.
Continuing to act as a priest, Kolbe was subjected to violent harassment, including beating and lashings, and once had to be smuggled to a prison hospital by friendly inmates. At the end of July 1941, three prisoners disappeared from the camp, prompting SS-Hauptsturmführer Karl Fritzsch, the deputy camp commander, to pick 10 men to be starved to death in an underground bunker to deter further escape attempts. When one of the selected men, Franciszek Gajowniczek, cried out, "My wife! My children!", Kolbe volunteered to take his place.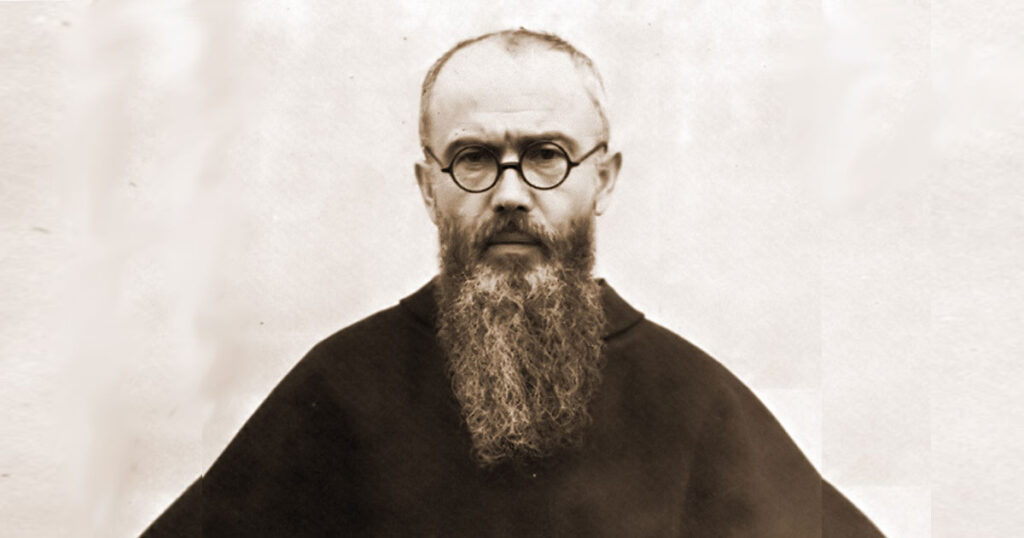 According to an eye witness, an assistant janitor at that time, in his prison cell, Kolbe led the prisoners in prayer to Our Lady. Each time the guards checked on him, he was standing or kneeling in the middle of the cell and looking calmly at those who entered. After two weeks of dehydration and starvation, only Kolbe remained alive. "The guards wanted the bunker emptied, so they gave Kolbe a lethal injection of carbolic acid. Kolbe is said to have raised his left arm and calmly waited for the deadly injection. His remains were cremated on August 15th, the feast day of the Assumption of Mary.
On May 12, 1955, Kolbe was recognized as the Servant of God. Kolbe was declared venerable by Pope Paul VI on January 30, 1969,beatified as a Confessor of the Faith by the same Pope in 1971 and canonized as a saint by Pope John Paul II on October 10, 1982. Upon canonization, the Pope declared St. Maximilian Kolbe not a confessor, but a martyr. Wikipedia