St. Maximilian Kolbe Faith Formation
2022-2023 Year
EVENTS/MEETINGS/NEWS:
March 15,2023 — Holy Hour
March 22,2023 — Stations of the Cross
March 29,2023 — Reconciliation/ Confession @ 6PM
---
First Communicants
March 26, 2023 — First Communion Retreat starting with mass @ 9AM
April 13, 2023 — First Communion Family Dinner
April 16, 2023 First Communion 9AM Mass
Karen Lefevre, Faith Formation Coordinator
920-373-2123
stmaxsobieski.rel.ed@gmail.com
Grades 1-6: Wednesdays, 5:30 – 6:45PM
Grades 7-11: Wednesdays, 7:00 – 8:15PM
"Parents are the first and most important educators of their own children, and they also possess a fundamental competence in this area: they are educators because they are parents."

Saint John Paul II Letter to Families
Welcome to St. Maximilian Kolbe Parish Faith Formation!
Within our parish and our Faith Formation program, our hope is to help instruct the young members of our parish in their faith as lived out in the sacred traditions of our Catholic Church. Our program is meant to assist and support families in their essential role of passing on their faith within the family.
Safe Environment
Each Person has an inherent dignity as a beloved child of God. The Diocese of Green Bay is committed to providing a safe environment in our parishes, in our schools, in our Faith Formation programs, and in all of our ministries, especially those that serve children, youth and individuals at risk. If you want to learn more about the programs and resources available through the Diocese of Green Bay to live out this commitment, please click on the following link: https://www.gbdioc.org/protecting-our-children/safe-environment

All staff and volunteers are VIRTUUS trained through the Diocese of Green Bay.
---
ALL SOULS DAY
Faith Formation students gathered to pray on November 2nd for fatihfully departed family and friends. Photo, Mass Card, or name were hung on "Faithfully Departed" Prayer Tree. Eternal rest grant unto them O Lord, and let perpetual light shine upon them.
---
Students prayed Divine Mercy Chaplet before our Lord at Holy Hour October 26.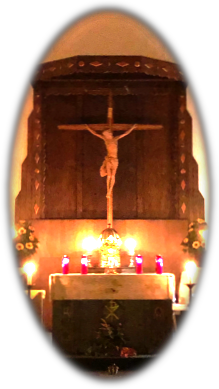 What a beautiful evening!
---
Happy Feast of Our Lady of the Rosary
---